I would describe my personal design style as being a bit dark and stormy. While I can appreciate things like country cottage and shabby chic, the sweetness of it isn't something I naturally gravitate toward. Whether a room is traditional, contemporary or completely eclectic, I'm always looking for a bit of strangeness, something that can counter-balance the perfection. To me, dark and stormy style is all about finding that thing that makes a room edgy, interesting, and mysterious. It's a room with a sexiness that makes you feel sexy by being in it. It doesn't have to be a Goth-themed space. I'm not talking about darkness in the context of death and scary monsters, I'm talking about darkness that evokes a naughtiness, curiosity or steaminess.
Sometimes it's one object that pushes a room in that specific direction and sometimes it's a combination of things. More often than not it isn't intentional. The room above would probably be considered contemporary, but the huge distressed mirror, the crystal chandelier, the loft-style room with the black fireplace surround…I imagine lit candles and glasses of wine and watching the stars through that gigantic window. It's a super sexy space.
The right artwork can take a room into the dark and stormy category. The taillights on a darkened highway driving off into the night tells a story about anything you want it to depending on your mood. This photo would constantly draw me in and inspire me. I imagine this in a space with muted tones, soft fabrics, bright metals and bits of stone.
This photo is a great example of a room that feels dark and stormy to me. It's a great mix but it's the print that brings in the darkness. A large-scale battle between a squid and a whale is such an unexpected piece of art in such a contemporary space but it makes it so much less cookie-cutter than so many other muted loft-like rooms.
The bedroom above is elegant,  contemporary, spare and interesting all at the same time. The four poster bed is over-the-top excellent, the Chinoiserie bench/chair at the end of the bed is gorgeous, and combined with that skull lamp, it becomes my idea of a dark and stormy space. I would feel powerful and in charge in that room – and that's sexy!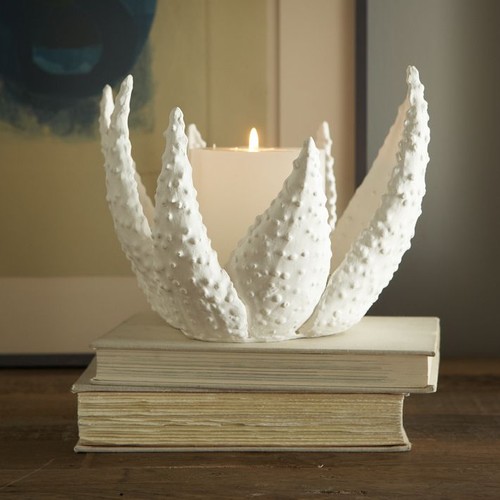 Accessories are my favorite thing next to rugs for bringing a little sexy mystery to a space. In true Curiosity Shoppe style, I love naturally found animal skulls, broken bits of machinery, tiny doll hands, glass apothecary jars and so much more. When you do a search on "sexy rooms" endless images of floaty fabric, satin, black walls and/or naked women paintings seems to come up. Some of those things can indeed be dark and stormy, but for me, there has to be something a little odd for a space to make my list. For me, that strangeness can be something as simple as this pretty ceramic agave candle holder. It's pointy, uncommon and dramatic. A few of these clustered on a table top or fireplace mantel would be amazing.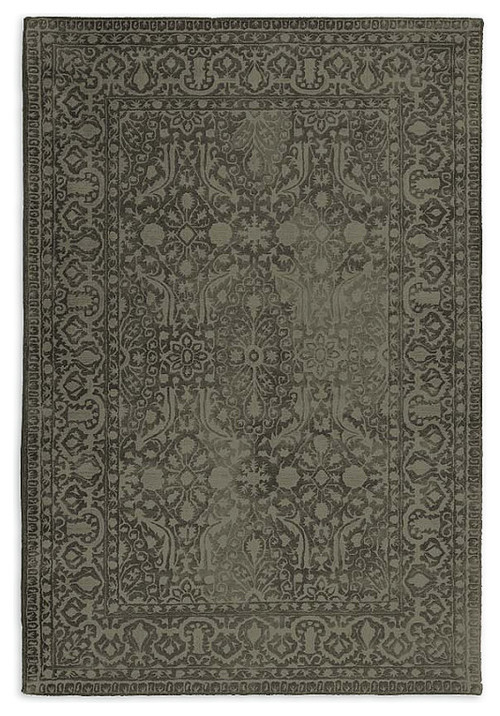 I would love to pair agave candle holders with this stormy take on a traditional Persian-style rug. Put them in a room with luxurious leather, steel, exposed brick and warm, sandalwood scented candles and you have the ingredients for a room that inspires languid afternoons and memorable evenings.
Scent is hugely influential when it comes to setting a mood. Musks, wood, moss, tobacco, vanilla and amber are all dark and stormy scents that when mixed together, are intoxicating in a very good way. Whether you are snuggled under the covers on a rainy day or reading a book on the sofa, when a candle is burning nearly everything becomes sexier and you want to linger just a little bit longer.
Dark and stormy will inevitably mean different things to everyone, but hopefully  you can take inspiration from what makes my heart beat a little faster.
Happy Decorating!
Back to Main Site